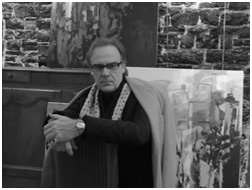 CHRISTIAN BERGERON
Born in Clermont, Quebec, Christian Bergeron is an established fine art painter with over 45 years of experience. Bergeron skillfully blends nature and culture, the contemporary and the traditional in his luminous landscape paintings. Working over the
last 10 years on his own 'prismatic' style, combining the linear composition of architectural design and the kaleidoscopic perspective of contemporary art, Bergeron has developed into one of Canada's most sought after contemporary fine art painters.
Known for his mastery of the spatula and his bright, contrasting colour palettes, Bergeron draws inspiration from his native Quebec and his world travels. Embodying an essence of Quebec culture and landscapes Bergeron's work recently featured on the cover of William Berg's book "Literature and painting in Quebec."
Today, the work of Christian Bergeron adorns the walls of art lovers throughout the world.
Corporate collectors include:
GazMetropolitain, Pratt & Whitney, Canam Manac, Donohue,
The Laurentian Bank, Royal Trust,
The Jim Patterson Group(Vancouver), Le Manoir Richelieu,
Fort Gary and Les Caisses Desjardins.
Bergeron has also exhibited vastly throughout Canada and the United States with exhibitions in Quebec, Ontario and Alberta.