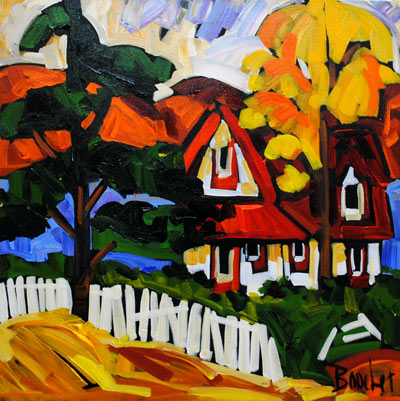 MARIE-CLAUDE BOUCHER
Marie-Claude was born in Charny, Quebec in 1973. Her interest in art began at an early age and could often be found drawing with her sister. Marie-Claude graduated from McGill University with a degree in Arts and Literature. After a brief teaching career, she decided to devote her time to her true passion, painting.
Marie-Claude has developed her style with the use of spontaneous, wide and loose brush strokes. She maintains a palette of primary and bold colours relying on the use of fluid brush strokes and minimal details to convey her message. Marie-Claude is a contemporary landscape artist with an expressionist twist.
Inspiration comes from many childhood summers spent in small villages of Quebec and Marie-Claude's travels. Her ability to find joy in every moment defines her personality and at the same time, her art.
Artist's Statement
"By allowing my feelings to direct the flow of my work, I am able to capture the energy of the moment allowing each work to convey to the viewer a small glimpse of myself."