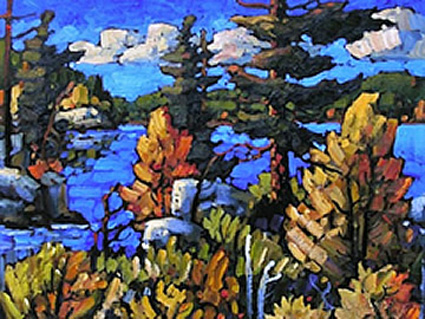 ROD CHARLESWORTH (1955- )
Born in northern British Columbia, Rod moved to the Okanagan area at a young age. His childhood fascination with drawing and painting has grown into a unique and primarily self-taught style, influenced by the surrealist movement in its early stages. Later, Rod discovered the Impressionistic school that led him to experiment with colour and the physical qualities of paint. The work of Tom Thomson and the Group of Seven has had a profound influence in his style.
Rod studied art at Okanagan College where his ability to express the beauty of Canadian landscape became evident. He is committed to painting images that have a strong Canadian cultural influence whether through his bold landscapes or his whimsical images of children at play.
Artist's Statement:
"Getting some colour on the canvas to get my creative juices flowing is probably the most significant step in the work. The next step is a very sketchy impression of the subject directly into the wet paint. Details do not matter, suggestions of detail is what my eyes want. I continue to lay down calligraphic brush stokes until the colours are working in harmony."