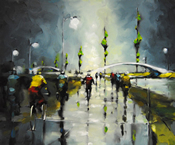 HAROLD BRAUL (1960 - )
Dubbed Canadian Cool for his modern, impressionist style, Braul lays down the basis of each canvas with a brush before switching to his fingers as the work progresses. The resulting canvases are vibrant and kinetic.
Harold Braul was born in 1960 in southern Ontario and currently lives in Toronto. He was tutored in fine art (oil painting) throughout grade school by Roger Rondue (a not so famous local artist). Later in life he studied Industrial Design in London Ontario (Canada), where he received his degree and has continued to paint ever since.
"My goal is to render a likeness," confirms Braul, "but also to capture the energy of the relationship between the subjects, if there is more than one. I try to achieve timelessness with my paintings, to separate the subject from time and place and so create a work that will always feel immediate."