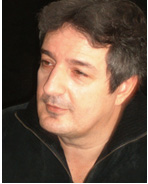 PIETRO ADAMO (1955 - )
PIETRO ADAMO has a profound interest in the abstract. His paintings are visual celebrations of both the artist's admiration for the "unpredictable and inexhaustible record of life" and the very freedom with which it is all expressed. In his passion to convey an emotion, a place or any image that may have stirred his memory, Adamo abandons the monotony of conventional subject matter in favour of vibrancy, spontaneity and organic brushwork.
Having been born in Toronto to Italian immigrant parents, and despite the pressure to follow a career path of more financial certainty Adamo pursued his undeniable talent early in his teen years. Even at such a young age he began hosting shows at the public library and went on to earn his bachelor's degree in fine arts from the University of Toronto and also at the Sheridan School of Animation. While teaching both elementary and high school his work attracted the attention of his student's parents. Finding inspiration from his wife and two children he finally opened up a studio in his late twenties and began pursuing his art as a full-time career.
Adamo has explored a variety of styles and genres including portraiture, figuration, surrealism, hyperrealism and others. Using acrylic, oils, silkscreen and textual elements in his unique abstract works, Adamo applies layer upon layer to create boldness and intensity. "I have to paint to speak without words, to express myself without restrictions...never relenting." Adamo is an art professor and has been the subject of a television series devoted to important Italo-Canadian artists.
Adamo's work can be found in galleries and private collections throughout the United States, Canada and Europe.