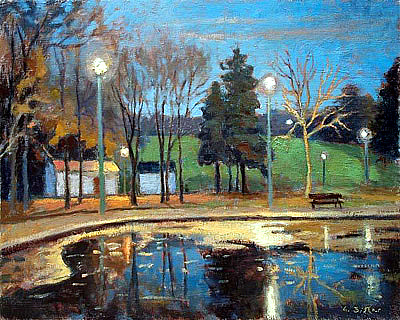 ANTOINE BITTAR (1957 - )
Antoine Bittar was born in 1957 and has been living in Canada since 1962. He began painting full time in 1981. Since then, he has traveled and painted in 17 countries in search of fugitive light and subject matter. The poetry of simplicity is delicately rendered with a universal appeal. The scenes represented in his work become secondary as strength in expressing the essential emerges. His fascination for mystery and moments difficult to capture gives his art a unique flavor. This artist has also participated in many solo and group exhibitions throughout art galleries in Canada.
During a first painting trip in France, his inner revelation was to merge a fascination for exploration with his artistic soul. In quest of new sensations, each country visited has been a fulfilling experience for his cultural and artistic expression.
Canada / United States / Mexico / France / Portugal / Tunisia / Morocco / Jamaica / Italy / Costa Rica / Switzerland / Spain / Thailand / Nepal / Holland / Malta / Cuba
CORPORATE COLLECTIONS
General Electric
Great West life
Glaxco Inc.
Ranger oil
Thomson Newspapers
Gerling Global Life Insurance
Power Corp.
La Presse Newspaper
Astral Bellevue Pathe
Hudson Bay Co.
Republic of Lebanon