Victor Colesnicenco (Nemo)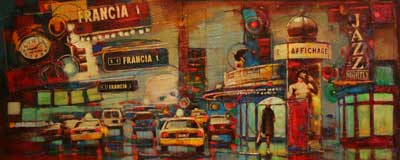 VICTOR COLESNICENCO (NEMO)
Victor Colesnicenco (Nemo) grew up in Chisinau, capital city of Moldova, which was known for its artistic heritage. He loved the paintings and from an early age became determined to become an artist. Although he enrolled in a Russian art school, he abandoned formal study and began learning on his own. He pursued travel and experimentation with new and innovative techniques. Nemo's talent quickly flourished and soon he was organizing outside art fairs to show his work.
After serving in the Russian army for two years, Nemo's motivation to become a professional artist was rediscovered. Together with a friend, he started an art restoration and mural painting business. Moving from city to towns throughout the countryside inspired a desire for further travel. Nemo took the opportunity to move his family to Canada where they settled north of Toronto. From his new home, Nemo could freely explore places all over the world.
The prevalent theme in Nemo's work is travel and the discovery of the beauty and excitement of new places. He is constantly experimenting and developing new techniques. Using oils, acrylics, and glazes, Nemo creates paintings that capture light and the feel of a place.
"My goal as an artist is to be free to develop new techniques and investigate new subjects."
Nemo's work is widely collected and is represented in galleries throughout Canada.
Read More